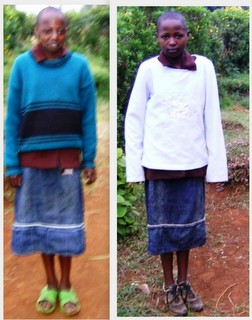 Alice(L) & Edith(R) BEFORE coming
to Gethsemane
Alice and Edith have always been close. Though Alice is a year older than Edith, they have always stuck together as best friends. Their parents had a short marriage, divorcing when the girls were young. Their mother left, and the girls remained with their father. Unfortunately, their father was a victim of HIV and died before Alice was only nine years old. The girls' grandparents felt obligated to take them in at first. But because the grandparents were aging and poverty stricken, they could not provide for the girls' basic needs.
As a result, Alice and Edith were next passed on to their uncle. He had a full house of his own children and resented the girls. He told them he would rather kill them both than have to take care of them. Alice and Edith lived in fear that their uncle would follow through with his threat, until Gethsemane learned about their situation. An area leader brought the girls to us in 2009, and they joined their Gethsemane family.
Because of your support, Alice & Edith have a family,unconditional love from their home parents, Cyrus & Patriciah, and are working hard at school. Edith will be starting her first year of High School this year.
Alice(L) & Edith(R) AFTER coming to Gethsemane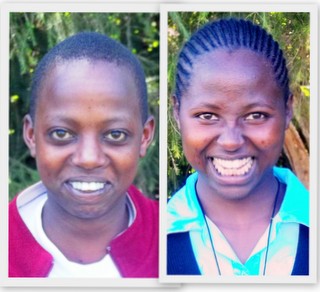 Please pray that continued sponsors and partners will allow Gethsemane to provide this change to more children who continue to struggle in the slums of Kenya.