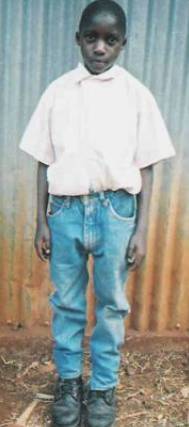 Fredrick BEFORE
coming to
Gethsemane
On January 20, 1994, in a small Kenyan village near the border of Uganda in the Mt. Elgon region, Fredrick was born. By the age of seven, he had watched his father slowly and painfully die of AIDS. He was devastated as a young boy watching his father's body gradually shrivel up and become consumed with this disease.
Very soon afterwards, fear was added to his grief. His mother moved his family to Nairobi looking for a job. When she could not find a job, his fear and anxiety grew as the family ended up in the slums of the largest city in Kenya. He knew the feeling of intense hunger and the emptiness of living without hope. He joined the other children in the slums and picked through garbage for food.
Then, his mother made the heartbreaking decision to give up her son because she could no longer care for him. We are grateful that God

Fredrick AFTER coming to Gethsemane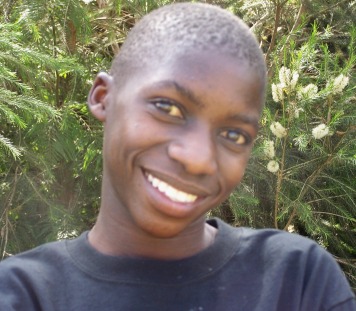 allowed his mother to have the courage to approach our little Gethsemane school. Ruth, our teacher, gladly took Fredrick in and cared for him as he dealt with his devastating feelings of abandonment.
At Gethsemane, Fredrick recieved education, food, his own bed, and sincere love from his new home parents. Most importantly, he was able to see the love of Jesus Christ in the Gethsemane home. Because of that example and the tender teaching of the home parents, Fredrick put his faith in Jesus Christ as his personal savior from sin. The transformation in Fredrick since he came to us and as he realized that he will never be abandoned by his Heavenly father is tremendous. That spiritual and eternal transformation is the reason Gethsemane exists.
Please pray that continued sponsors and partners will allow Gethsemane to provide this change to more children who continue to struggle in the slums of Kenya.