Annet BEFORE coming
to Gethsemane
In Uganda, Africa, a country bordering Kenya, Annet was born in June of 1992. Her mother was Ugandan, but her father was from the nomadic Eastern African tribe called Maasai. Their family already had three boys and a girl; Annet was their fifth child.
Before she was old enough to understand, her father began to slowly die from the disease of AIDS. To a young child, watching her father gradually lose his strength and die was devastating. At the tender age of six, Annet experienced this horror agian when her mother also became fatally ill with AIDS. Day by day, Annet worked with her siblings to keep her mother alive as well as care for the rest of the family. Soon, however, it was obvious that her mother's shriveling body and declining health could not fight the disease any longer. Before Annet was seven years old, both of her parents were dead. She was an orphan.
After her mother's funeral, a relative came and took Annet and her siblings to care for them. They traveled to Nairobi Kenya together, but soon the five of them found themselves alone in the large capitol city. They had been abandoned.

Annet AFTER coming to Gethsemane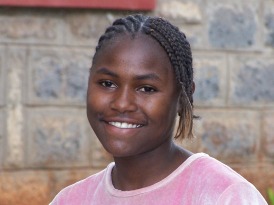 Now forced to live in the streets, Annet had to find a way survive. She was seperated from her siblings and has never seen them since that day. She was truly left alone in the strange and vast city of Nairobi. The only way she stayed alive was by begging for food and picking through garbage like countless other street children.
Thankfully, in 2003, Annet came to Gethsemane. After being with us for two years, and after hearing the message of Jesus Christ, she approached Ruth - our home mother - and asked to become a true born again Christian. Praise God, she is now a sister in Christ!
God has worked a miracle in this girl's life, taking her full circle from being an orphan without a home to becoming His child in the Gethsemane home, by His amazing grace. Please pray that we will be able to create that same transformation in the lives of other children through sponsorships and support.