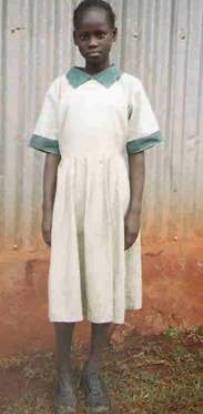 Catherine BEFORE
coming to Gethsemane
Catherine lived in a Luyha village outside of kitale, a northwestern town in Kenya near Mr. Elgon. She came home from school one day to find her mother lying on the floor, shivering and too weak to stand. She knew then that her mother would soon die, just like her father had mearly a few months earlier. At eight years old, Catherine found herself being her mother's primary care giver. Day after day she watched as her mother struggled for life. Throughout the day and night, Catherine tried to nurse her mother back to health. But one day AIDS took its toll and her mother died, leaving Catherine alone.
What would you do if you were eight years old and all alone? Catherine thought of an aunt she had in Nairobi; surely

she

could join that family...surely she would find a bed and some food from her own relatives. Catherine made the long journey to her aunt's home only to be taken in as a servant and endure many abuses. Bewildered, abused, and heartbroken, she pressed on day after day trying to cope with the loss of her parents as well as bear the physical pain she endured. Then abruptly, one day her aunt kicked her our of the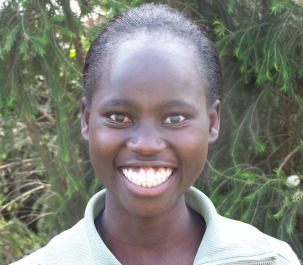 Catherine AFTER

coming to Gethsemane

house.
Catherine was then forced to fend for herself on the streets of Nairobi. She roamed the slums for years, trying to survive - eating garbage and going from one "relief center" to another. By the grace of God, Catherine came across a little school in the slums - our Gethsemane school. Ruth Ondieki, our home mother and the teacher at our school, began to care for Catherine. Gethsemane provided Catherine with some new clothes, lunch every day, some education, and - most importantly - the love of Jesus Christ.
Catherine soon made the choice to put her faith and trust in Jesus Christ as her personal Savior from sin. She has become one of the leaders at our homes, loves to sing and always has a joyful smile on her face. Her love for Jesus has changed her life. By God's grace and the support of our partners we have already made a difference in Catherine's life. Please pray that we will be able to help more "Catherines" as God provides.