Meet one of our children...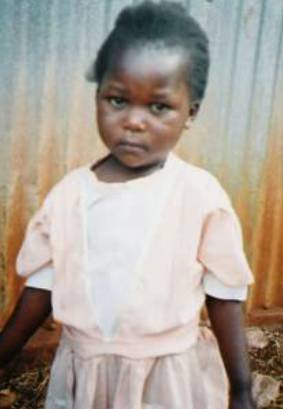 In 2001, Mariam faced a tragedy. After battling the creeping disease, her mother died of AIDS. The very next year, she faced another death, that of her father. She and her sister found themselves alone on the streets of the Nairobi, Kenya slums.
Mariam was three years old.
While in the slums, Mariam was vulnerable, frightened, and hungry. But praise the Lord that she came to Gethsemane shortly after her abandonment. God spared her from the horrors and sufferings of being in the slums, though her young shoulders still bore the burden of losing her parents and being an orphan.
Now, Mariam recieves an education, three meals a day, a warm bed to sleep in and plenty of genuine love from our home parents. Also
- most importantly - she is learning about the love of Jesus Christ and her Heavenly Father.
Thankfully, since being at Gethsemane's home, she has come to a saving knowledge of Jesus Christ, and knows that she will never again be alone. That is the unshakable impact love and the Gospel makes every day at Gethsemane.
It is God's blessing and the generosity of our sponsors that provides this life-changing experience and eternal difference for Mariam and the other children at Gethsemane. Please pray that we will continue to be able to sponsor and minister to the children of Kenya.