The difference Christ makes in the life of a child...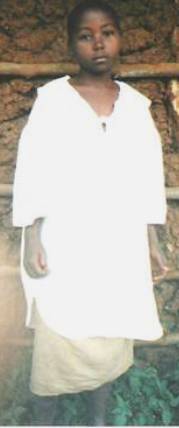 Evaline BEFORE
coming to
Gethsemane
Evaline was born October 7, 1994 in Kisii, a small town in western Kenya near Lake Victoria. At the tender age of seven, she watched helplessly as her mother's body deteriorated from the disease of AIDS. Shortly after the death of her mother, Evaline's grief was compounded when her father also died of AIDS within that same year. Now eight years old, she found herself orphaned and being passed from relative to relative. This discouragement grew as time and time again her relatives - who either could not afford to keep her or simply did not want her - continued to pass her off to others. The scars of rejection increased her loneliness and reminded her again and again that no one cared.
Evaline eventually ended up in the slums of Nairobi, Kenya feeling unwanted and unloved. She was without a home, without a family, and ultimately without hope. The rough life of struggling to survive in the jungle of huts that was the slums wore on the eight year old. The unthinkable experinces she faced scarred her and confirmed her feelings of worthlessness.
Evaline AFTER coming to Gethsemane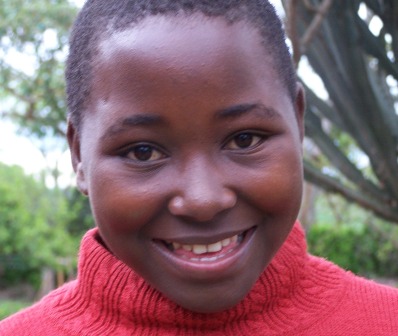 Finally, in 2003, she came to Gethsemane International for help, but she could still only speak Kisii, her mother tongue. Ruth Ondieki, our teacher, took Evaline into her own home until we established the first of our homes in 2005. One day, Evaline came to Ruth and asked how to become a true born-again Christian. Joyfully, Ruth had the oportunity to lead Evaline to Jesus Christ and she made Him her personal savior from sin.
Now, Evaline has daily confirmation that her Heavenly Father loves her and that she is wonderfully made! She has a loving family with two godly home parents, education, food, clothes, her own bed, and - for the first time in a long time - Evaline has hope.
What a difference Jesus Christ makes! Thanks to the Lord's provision and our partnership with our sponsors, Gethsemane has been able to share Christ with Evaline and many like her. Please pray that we will be able to share this oportunity with many children still in the streets of Kenya.